Product Summary
The ICL7135CN converter is manufactured with Texas Instruments highly efficient CMOS technology. This 4 1/2-digit, dual-slope-integrating, analog-to-digital converter (DAC) is designed to provide interfaces to both a microprocessor and a visual display.
Parametrics
ICL7135CN absolute maximum ratings: (1)Supply voltage (VCC+ with respect to VCC–): 15 V; (2)Analog input voltage (IN– or IN+): VCC– to VCC+; (3)Reference voltage range: VCC– to VCC+; (4)Clock input voltage range: 0 V to VCC+; (5)Operating free-air temperature range, TA: 0℃ to 70℃; (6)Storage temperature range, Tstg: –65℃ to 150℃; (7)Lead temperature 1,6 mm (1/16 inch) from case for 10 seconds: N package: 260℃.
Features
ICL7135CN features: (1)Zero Reading for 0-V Input; (2)Precision Null Detection With True Polarity at Zero; (3)1-pA Typical Input Current; (4)True Differential Input; (5)Multiplexed Binary-Coded-Decimal (BCD) Output; (6)Low Rollover Error: ±1 Count Max; (7)Control Signals Allow Interfacing With UARTs or Microprocessors; (8)Autoranging Capability With Over-and Under-Range Signals; (9)TTL-Compatible Outputs; (10)Direct Replacement for Teledyne TSC7135, Intersil ICL7135, Maxim ICL7135, and Siliconix Si7135; (11)CMOS Technology.
Diagrams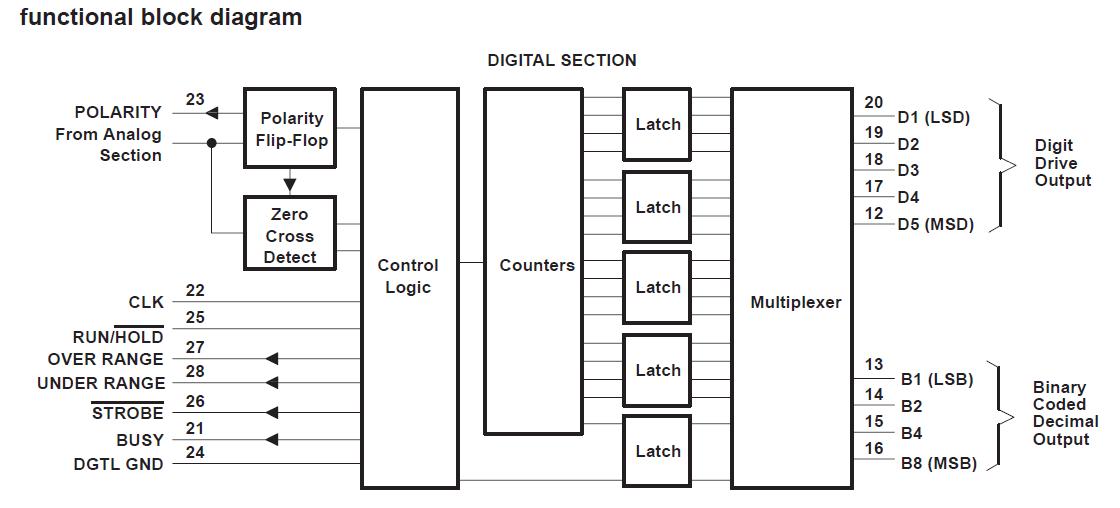 Image
Part No
Mfg
Description
Pricing
(USD)
Quantity

ICL7135CN

Texas Instruments

ADC (A/D Converters) 4.5-Bits 0.003kSPS Muxed BCD Out

Data Sheet



| | |
| --- | --- |
| 0-1: | $5.02 |
| 1-25: | $4.28 |
| 25-100: | $3.55 |
| 100-250: | $3.42 |


ICL7135CNG4

Texas Instruments

ADC (A/D Converters) 4.5Bs 0.003kSPS ADC

Data Sheet



| | |
| --- | --- |
| 0-1: | $5.28 |
| 1-25: | $4.89 |
| 25-100: | $3.55 |
| 100-250: | $3.42 |