Product Summary
The BLF574 is an 500 W to 600 W LDMOS power transistor for broadcast applications and industrial applications in the HF to 500 MHz band. The applications of the BLF574 include Industrial, scientific and medical applications, Broadcast transmitter applications.
Parametrics
BLF574 absolute maximum ratings: (1)drain-source voltage: 110 V; (2)gate-source voltage: -0.5 to +11 V; (3)drain current: 56 A; (4)storage temperature: -65 to +150 ℃; (5)junction temperature: 225 ℃.
Features
BLF574 features: (1)Typical CW performance at frequency of 225 MHz, a supply voltage of 50 V and an IDq of 1000 mA: Average output power = 500 W, Power gain = 26.5 dB, Efficiency = 70 %; (2)Easy power control; (3)Integrated ESD protection; (4)Excellent ruggedness; (5)High efficiency; (6)Excellent thermal stability; (7)Designed for broadband operation (10 MHz to 500 MHz); (8)Compliant to Directive 2002/95/EC, regarding Restriction of Hazardous Substances (RoHS).
Diagrams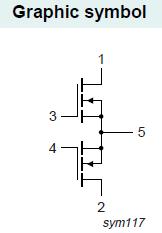 Image
Part No
Mfg
Description
Pricing
(USD)
Quantity

BLF574

NXP Semiconductors

Transistors RF MOSFET Power 500-600W, HF-500MHz

Data Sheet

Negotiable

BLF574,112

NXP Semiconductors

Transistors RF MOSFET Power Trans MOSFET N-CH 110V 42A 5-Pin

Data Sheet



| | |
| --- | --- |
| 0-1: | $117.87 |
| 1-25: | $108.11 |