Product Summary
The H21A1 is a phototransistor optical interrupter switch. It consists of a gallium arsenide infrared emitting diode coupled with a silicon phototransistor in a plastic housing. The packaging system of H21A1 is designed to optimize the mechanical resolution, coupling efficiency, ambient light rejection, cost and reliability. The gap in the housing provides a means of interrupting the signal with an opaque material, switching the output from an "ON" to an "OFF" state.
Parametrics
H21A1 absolute maximum ratings: (1)Operating Temperature: -55 to +100 ℃; (2)Storage Temperature: -55 to +100 ℃; (3)Soldering Temperature (Iron)(2,3 and 4): 240 for 5 sec ℃; (4)Soldering Temperature (Flow)(2 and 3): 260 for 10 sec ℃; (5)Continuous Forward Current: 50 mA; (6)Reverse Voltage: 6 V; (7)Power Dissipation: 100 mW; (8)Collector to Emitter Voltage: 30 V; (9)Emitter to Collector Voltage: 4.5 V; (10)Collector Current: 20 mA; (11)Power Dissipation (TC = 25℃): 150 mW.
Features
H21A1 features: (1)Opaque housing; (2)Low cost; (3).035" apertures; (4)High IC(ON).
Diagrams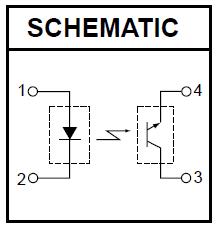 Image
Part No
Mfg
Description
Pricing
(USD)
Quantity

H21A1

Fairchild Semiconductor

Optical Switches, Transmissive, with Phototransistor Output INTERUP MOD TRANS

Data Sheet

Negotiable

H21A1_Q

Fairchild Semiconductor

Optical Switches, Transmissive, with Phototransistor Output INTERUP MOD TRANS

Data Sheet

Negotiable