Product Summary
The 1SMB5918BT3G is a 3 Watt Plastic Surface Mount Zener Voltage Regulator.
Parametrics
1SMB5918BT3G absolute maximum ratings: (1)Maximum Steady State Power: Dissipation @ TL = 75℃: 3.0 W, Derate Above 75℃: 40 mW/℃; (2)Thermal Resistance from Junction-to-Lead: 25 ℃/W; (3)Maximum Steady State Power Dissipation @ TA = 25℃: 550 mW, Derate Above 25℃: 4.4 mW/℃; (4)Thermal Resistance from Junction.to.Ambient: 226 mW; (5)Operating and Storage Temperature Range: -65 to +150℃.
Features
1SMB5918BT3G features: (1)Zener Voltage Range - 3.3 V to 200 V; (2)ESD Rating of Class 3 (>16 kV) per Human Body Model; (3)Flat Handling Surface for Accurate Placement; (4)Package Design for Top Side or Bottom Circuit Board Mounting; (5)Pb-Free Packages are Available.
Diagrams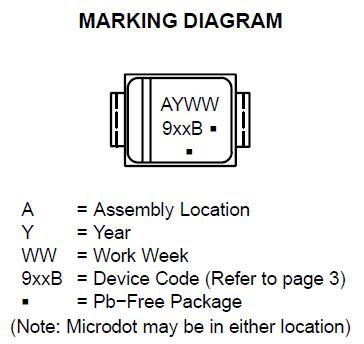 Image
Part No
Mfg
Description
Pricing
(USD)
Quantity

1SMB5918BT3G

ON Semiconductor

Zener Diodes 5.1V 3W

Data Sheet



| | |
| --- | --- |
| 0-1: | $0.20 |
| 1-25: | $0.17 |
| 25-100: | $0.11 |
| 100-500: | $0.09 |

Image
Part No
Mfg
Description
Pricing
(USD)
Quantity

1SMB100AT3

ON Semiconductor

TVS Diodes - Transient Voltage Suppressors 100V 600W

Data Sheet

Negotiable

1SMB100AT3G

ON Semiconductor

TVS Diodes - Transient Voltage Suppressors 100V 600W Unidirectional

Data Sheet



| | |
| --- | --- |
| 0-1: | $0.56 |
| 1-25: | $0.50 |
| 25-100: | $0.44 |
| 100-500: | $0.37 |


1SMB10AT3

ON Semiconductor

TVS Diodes - Transient Voltage Suppressors 10V 600W

Data Sheet

Negotiable

1SMB10AT3G

ON Semiconductor

TVS Diodes - Transient Voltage Suppressors 10V 600W Unidirectional

Data Sheet



| | |
| --- | --- |
| 0-1: | $0.22 |
| 1-25: | $0.18 |
| 25-100: | $0.12 |
| 100-500: | $0.10 |


1SMB10CAT3

ON Semiconductor

TVS Diodes - Transient Voltage Suppressors 10V 600W

Data Sheet

Negotiable

1SMB10CAT3G

ON Semiconductor

TVS Diodes - Transient Voltage Suppressors 10V 600W Bidirectional

Data Sheet



| | |
| --- | --- |
| 0-1: | $0.22 |
| 1-25: | $0.18 |
| 25-100: | $0.13 |
| 100-500: | $0.11 |